I went for a walk yesterday and was surprised to see so many golden brown leaves covering the parks and pavements. It feels too early for autumn, but the freshness in the air is a sure sign that leather jacket season is upon us. I'm back in London after the most incredible tour opening for Katie Melua in stunning outdoor venues across sun-soaked Germany. The shows, as well as the intensely hot summer, now feel like a dream. As I'm typing this, I'm thinking on how apt it was that Katie closed every show with exactly that sentiment, the final words of her closing song reflecting: "maybe I dreamt it". Before my dream-like memories settle too much, I'd like to share some impressions with you from what has been a truly incredible experience. 
I was nervous ahead of this tour. It wasn't the size of the audiences, the large stages or the prospect of having to do my stage talk in German that caused the unease (Ok, well the latter definitely added a little bit of an edge). It was actually the many logistical hurdles and little unknowns that came into play when planning the biggest shows I've ever had the privilege of playing in Germany. I wanted to perform as a duo (Maddy Hamilton joined me on cello and backing vocals), which makes things a little trickier logistically and financially. There were just so many little things to sort out and so much that could have potentially gone wrong, I wasn't at ease and couldn't really start getting excited until Maddy was safely in Berlin, we'd successfully picked up all the instruments and bits and pieces that we needed to borrow and settled down for one last rehearsal.

ORANIENBURG
It was 34 degrees and unrelenting sunshine on the day of the first show. There was something very surreal about parking up outside a castle and carrying heavy keyboards and guitar amps through the majestic estate, the serenity of the location so at odds with the brutality of the heat. When Liz, Katie's tour manager, handed us our AAA passes, my nerves were finally replaced by excitement: Six shows playing in dreamy venues in front of thousands of people…here we go!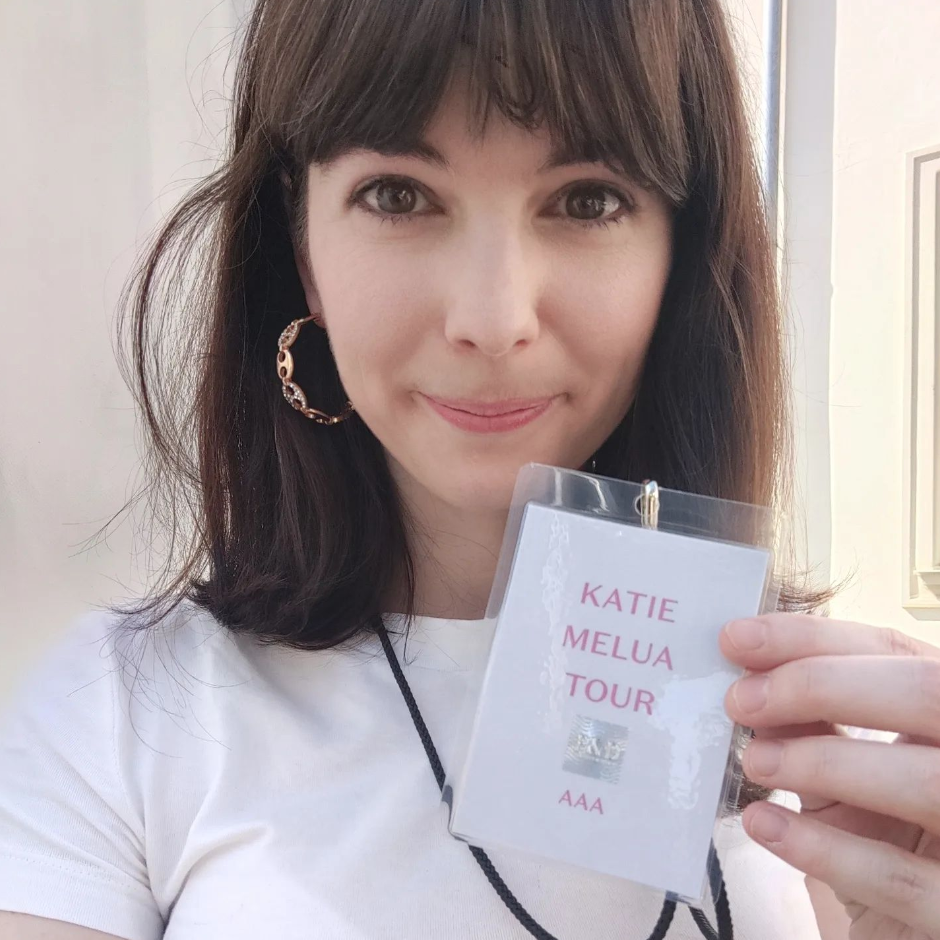 At the risk of overusing the word surreal in this retelling, it certainly best describes the feeling of singing my song Wasteland, just twenty minutes from where I grew up in Berlin, to 1500 attentive humans, most of whom were old enough to remember a divided Germany and the sentiments I'm singing about in that song all too well. I felt a real sense of achievement after our set and sat happily at the back of the venue sharing a beer with Maddy, watching the sun set behind the stage as Katie sang her beautiful songs with special guest Simon Goff, producer of Katie's brilliant new album 'Aerial Objects'.
AHR VALLEY

The following day was supposed to be a day off, but I was booked to play a charity Festival on the other side of the country and so I caught an early train and made my way towards the Ahr Valley. Last year, the people in this area suffered terribly from extreme floods. I was really pleased they could go ahead with the Festival this year and felt really honoured to be asked to headline the first night of this charity show run by and for its community. The seven hour journey there and back again the following morning was totally worth it for the setting alone. This must have been one of the most beautiful stages I've ever seen. It was hard to believe I was still in Germany and not somewhere in Tuscany. Also, my good friend Daniel who helped organise the Festival gifted me a little box of Beatles plectrums, so all in all, a total win for me.  It clearly wouldn't have been a proper RDB tour without a decent zig-zag and a train track or two.

HALLE
It all felt a bit "mission impossible": a 6am start, an eight hour train journey full of delays and missed connections, rolling out of the train and into the rental car (my sister, her partner Max and Maddy met me at the station) and onwards to the venue to rejoin the Katie Melua tour. We arrived at Freilichtbühne Peißnitz just in time for sound check. The venue was just magical: a beautiful outdoor stage surrounded by trees in the middle of a beautiful park. The backstages were so generous and the tour catering was something else…It felt totally luxurious and I was determined to soak up every second of it. There are some shows that stay with you forever and, although I was really tired, I had a feeling that tonight would be special. Perhaps it was the fact that I simply had a better idea of what to expect, maybe it was the slight change in the set list, or maybe that I made a point of talking only German in between the songs, but I enjoyed every second of that half hour show and could really feel everyone's energy. The sensation of performing on a big stage to a large crowd, especially when they're singing along to your song, is unlike any other feeling. The closest thing I can relate it to is that wave of euphoria of falling in love. And we did a bit, didn't we? I feel like I met so many lovely people that day and really hope you all stay in touch so I can come play for you again sometime. Huge thank you to the super talented photographer Lisa Hemp for taking some incredible photos of the show and thanks to every single one of you for making it such a special night.
Once everything was packed up and I quickly devoured the left-overs of the catering, we drove to Leipzig, where we stayed in a really lovely air b'n'b. Despite all the exertion, I couldn't sleep that night. I was way too inspired. Inspired to write songs big enough to fill stadiums, inspired to do whatever I need to do to make sure it won't be too long before I can fill venues like that with beautiful people like yourselves.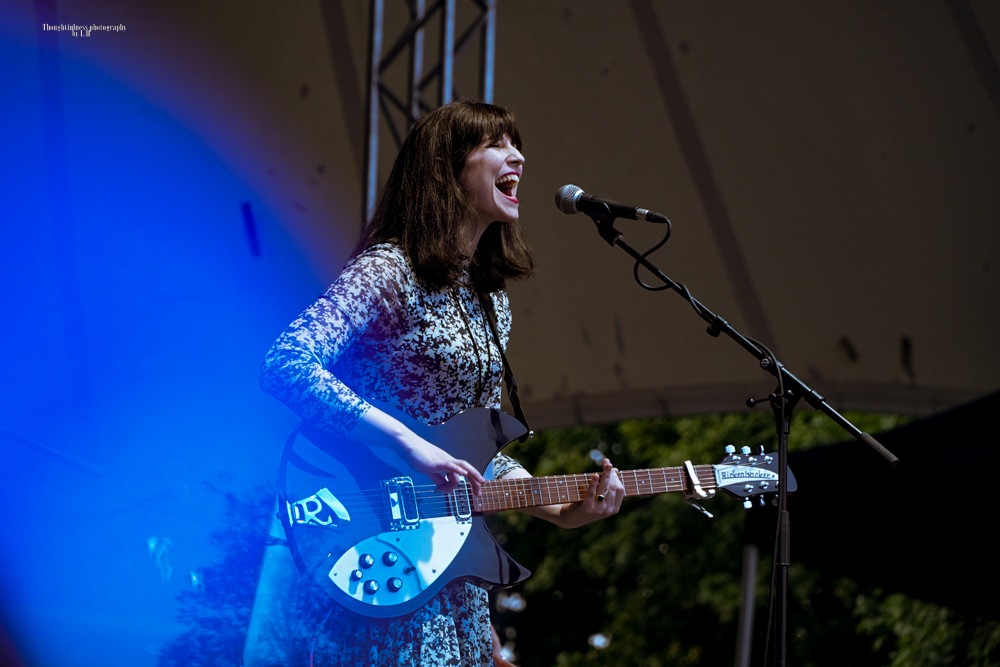 CHEMNITZ

The magic continued. We didn't have far to travel the following day. It was as if the venues on this tour were in competition with one another, trying to out do each other in grandeur and beauty. If it wasn't a castle, it was a picturesque forest stage or, as was the case in Chemnitz, in the middle of the city, a beautiful town square with the stage set up right in front of the cathedral. Everyone seemed really relaxed today, as if all band and crew members had settled into this dreamy routine by now. The atmosphere backstage felt like a super laid back festival with people hanging out in the sun or in the beautiful catering tent with a smorgasbord of treats (including an array of fresh fruit and vegetables to make your own juice!).

The view from the stage was something else. All 1700 Katie fans were already seated when Maddy and I took to the stage. Looking out onto the crowd as the setting sun bounced off the surrounding buildings, I honestly felt like I was in a dream! It was so beautiful and I was so happy to be there, I nearly started to cry. Again, meeting you all after the show was such a pleasure. It was so great to see a diverse crowd and I hope you all keep in touch. One person actually bought a ticket to see me specifically, having been at my one (and only) tiny show in Chemnitz about six years ago (this show actually features in my little book 'Tales from the Rails' for those of you who have a copy!) – thank you so much for keeping in touch, I promise I won't leave it so long next time!

That night we stayed with my oldest friend (we've known each other since we were eight and hadn't seen each other in five years). Rather predictably, stayed up way too late. With my freshly operated eye (long story if you're new here…!), I lay down outside on a lounge chair in the early hours of the morning to look up at a blanket of stars. I didn't quite catch a shooting star (never seen one before!), but I did see the Milky Way really clearly for the first time since I was a child.
BONN

I had zero problems sleeping that night. The following (late) morning, we were all a bit worse for wear and it took us a while to muster up the strength to embark on a six hour drive to Bonn. It was a travel day though, so all we had to do was get there and rest up for the show the following day. Bonn was one of my favourite shows on the tour. This was the only indoor show, which meant that all the energy from us and the brilliant audience had nowhere to go (it was a real Saturday night vibe on that particular Monday evening). It ricocheted off the walls and filled the air with a palpable kind of electricity. I've never had that much applause as a support act and I cannot tell you how nice a feeling that was! I'm so glad everyone enjoyed it so much. This was also my favourite show of Katie's…there was just something about the sound in that enclosed space, the lighting and the tension that added a drama and a brilliance to her already brilliant set. I really am starting to feel at home in Bonn and would like to thank my friends Daniel and Maria for putting us up and for all the support. Thanks also to John Hurd for this brilliant photo of me capturing the audience: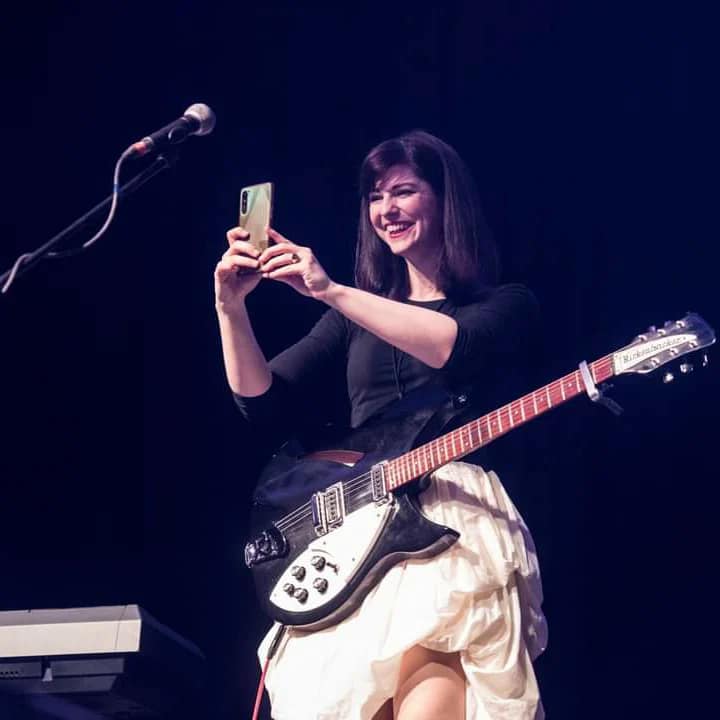 Immediately after our set, Maddie and I nipped outside for a quick celebratory beer by the Rhein, the golden hour (or low hanging light, as you know I like to call it), bathed Bonn in a beautiful light.
ROSTOCK
The penultimate show of the tour was in Germany's north coastal town of Rostock. It was the last show with Maddy accompanying me and, as we were setting up on stage after tucking into the lunch catering, I already felt a pang of nostalgia kicking in – have you ever missed something before it was gone? As I sprawled out on the huge couch in our backstage room with a cup of coffee after soundcheck, I really didn't feel anywhere near ready for this tour to come to an end. Once again, the view from the stage was stunning (a vast field with manicured trees lining the venue) and the audience was attentive and generous. After the show, we had a little "goodbye Maddy" drink together with Katie's band before we headed back to Berlin.
GOERLITZ

The last show of the tour was in a stunning little town right by the Polish border. I had never been and was totally taken by surprise at how beautiful it was (well worth a visit if you're anywhere close by). This final show took place in the grounds of the local brewery – another stunning setting and view from the stage. As the tour came to a close, the summer heat grew more intense. It was so hot that I couldn't leave my instruments on stage after soundcheck for fear of having them melt (which I already had done during soundcheck). As much as I enjoyed playing, my favourite thing about this last show wasn't actually the gig itself, but hanging out with Katie and her band before and after the show. I'd never actually been in a proper tour bus, so hanging out in there with a ridiculously sized gin & tonic (thanks Joe) was a perfect way to end the night. Before we left the bus to head out to our hotel for the night, Katie shoved a tray of sushi and a bottle of wine into our hands – what a lovely, lovely send off that was. We thoroughly enjoyed both those things back at our hotel.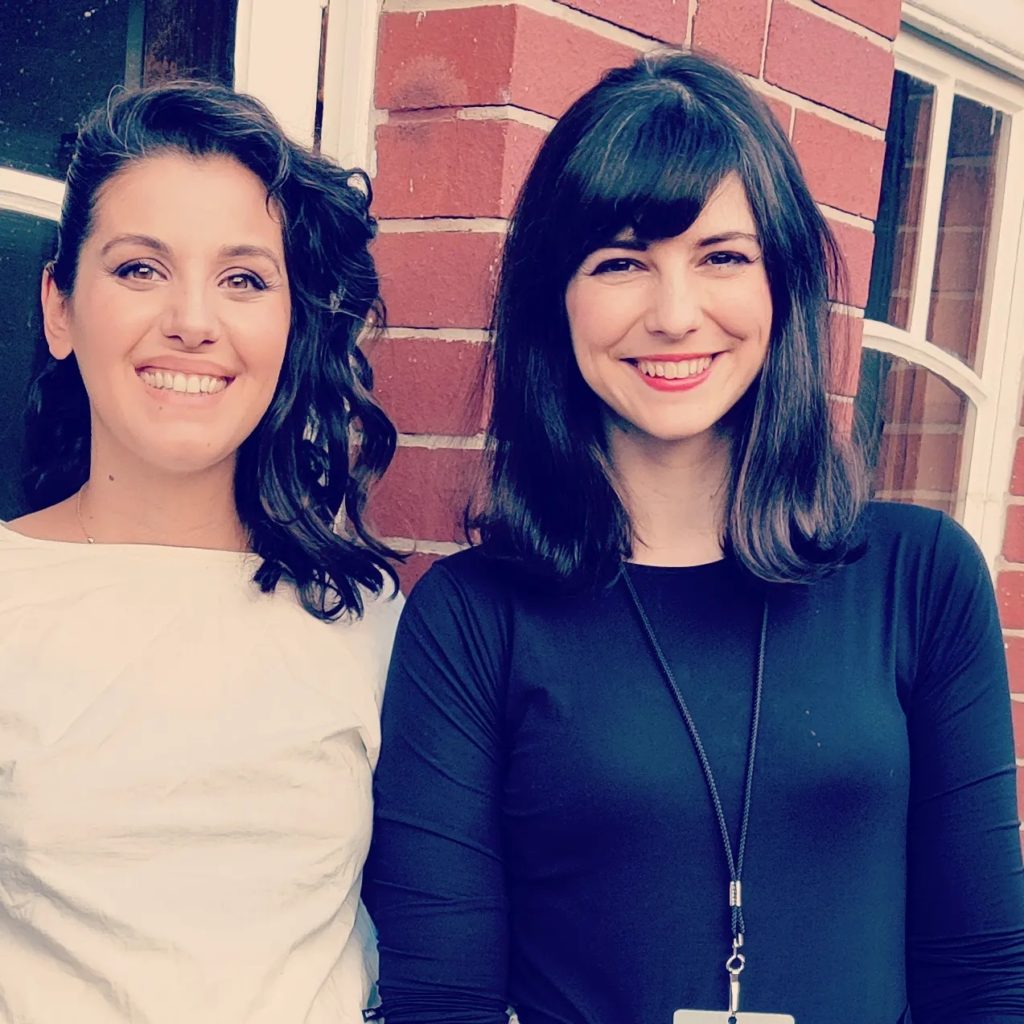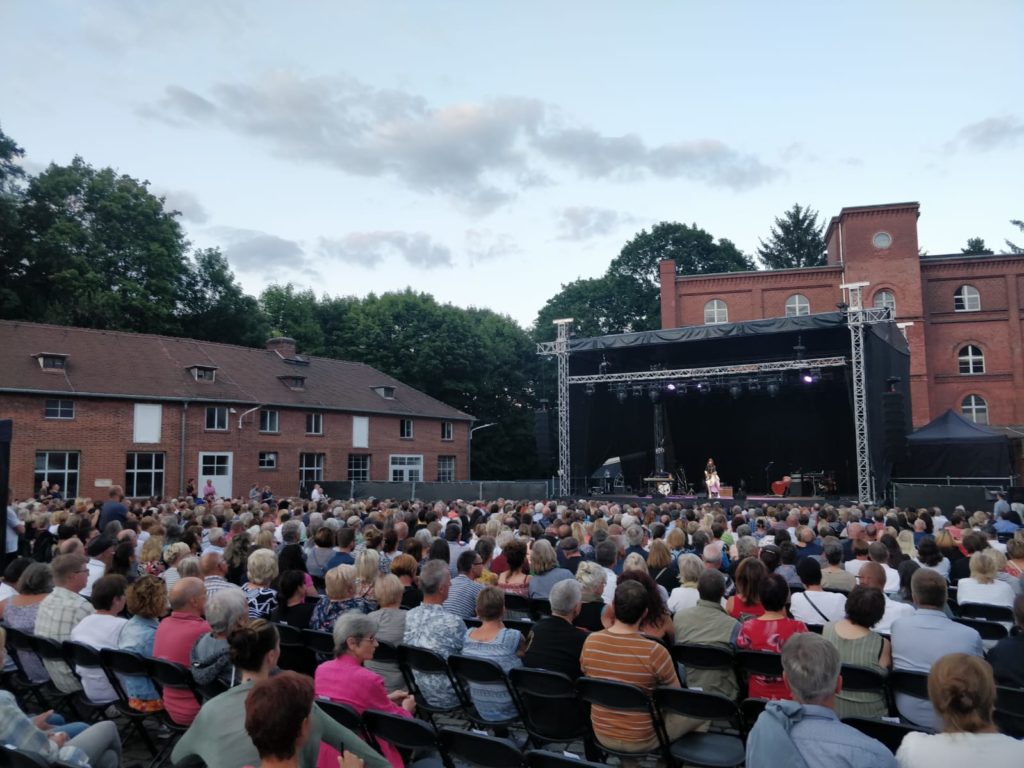 THINGS I'VE LEARNT AND CLOSING THOUGHTS

Katie's tour was super inspiring and I'm so grateful I had the opportunity to open for such a prolific songwriter and stunning vocalist. Throughout the entire tour, I didn't hear her sing a single note that wasn't pitch perfect – her voice is just extraordinarily pristine. I think it always says a lot about a person when they surround themselves with lovely people too. Everyone in the band and team was kind, welcoming and just really easy going. It was really great to see Katie's front of house sound engineer tour together with her toddler too – it's so encouraging and felt really empowering to see artist normalise motherhood on tour and it's great to see it in action. I absolutely love Katie's latest album and I'm so excited for the next musical chapter (definitely go and listen to Aerial Objects now if you haven't already!). I really can't thank Katie enough for having me open these shows and I'm so happy my music seemed to go down well with her audience.

To any musicians reading this, unfortunately I learnt that touring mainland Europe after Brexit is logistically harder and more expensive. It cost me so much to ship my own records and merchandise over to Germany. If you have a big tour coming up outside of the UK, it's well worth looking into getting merchandise produced in the EU to save on those import costs.

It was such a joy to do this tour together with the help of my family. They don't often get to see me perform and I don't get to spend as much time with them as I'd like, so all in all, this worked out a dream. A huge thank you to Geraldine, Max and my mum Susanne for all the help driving and for doing an incredible job at the merch stand.

Oh and let's be honest, the real star of my show was my sister's dress, which made me feel like a rock-star-fairy (and yes, throw in a Yellow Submarine and that IS my childhood dream, so I'm clearly doing something right). Thank you to my big sister for always being generous in sharing clothes and make-up and for being the exact same size as me…I appreciate it.

Thanks of course to Maddy for being excellent company on and off stage and thanks to everyone who came along to the shows for being such an incredibly attentive and kind audience. With the beautiful venues, amazing audiences, catering and backstages, the sushi and the hangs…I could very easily get used to this style of touring…that's a fact, it's a thing I can't deny (see what I did there?)