I feel like myself again. I hadn't realised how much of me had gone missing until I found myself, in a VW van, sitting in the passenger seat en route to show number four or five of the You & Me, We Are The Same tour. I am at my happiest when I'm physically tired from all the right things, when I have confidence that my voice is rehearsed and will magically project my feelings loud and clear despite that tired feeling in my bones. It felt so good to finally be back on the road, playing shows to people who have been so supportive of my music throughout the past years. As a small thank you to those of you who came out to see us, I thought I'd do a little old school "tales from the rails" blog post to recap and share my favourite moments with you…despite the fact that there were no actual rails in sight on this tour, other than the ones featured in my lyrics.

This was my very first headline tour with a band. Together, we played ten shows, pretty much back to back, across the UK. While touring with a set of musicians makes things logistically and financially substantially harder, it is infinitely more fun and musically fulfilling. So much of touring is simply getting from A to B and waiting for your turn, be it to sound check or to emerge from a tiny, often grimy, back stage room to play a show. It helps having lovely humans around you to help pass the time, to debrief together, and to share all those moments: the slightly frustrating ones ("I couldn't hear myself on stage at all") and the sparkly ones ("did you see that person in the front row singling along to every song"?).
You & Me, We Are The Same
It was always going to be a challenge releasing an album during a pandemic. When 'You & Me, We Are The Same' hit the virtual and physical shops, it wasn't possible to perform the album live. Now, eight months on from its release, I could finally tour my album and play those "new" songs for you for the first time and it felt triumphant. When the tour kicked off in Cardiff (read the wonderful review of that show here), the country was dowsed in bunting and a jubilant spirit lay thick in the air. It spilled out from pub gardens onto the streets. Yes, I know that it was mostly for the Queen's jubilee, but it kind of felt like it was for us. A celebratory "welcome back to the stage, Roxanne!"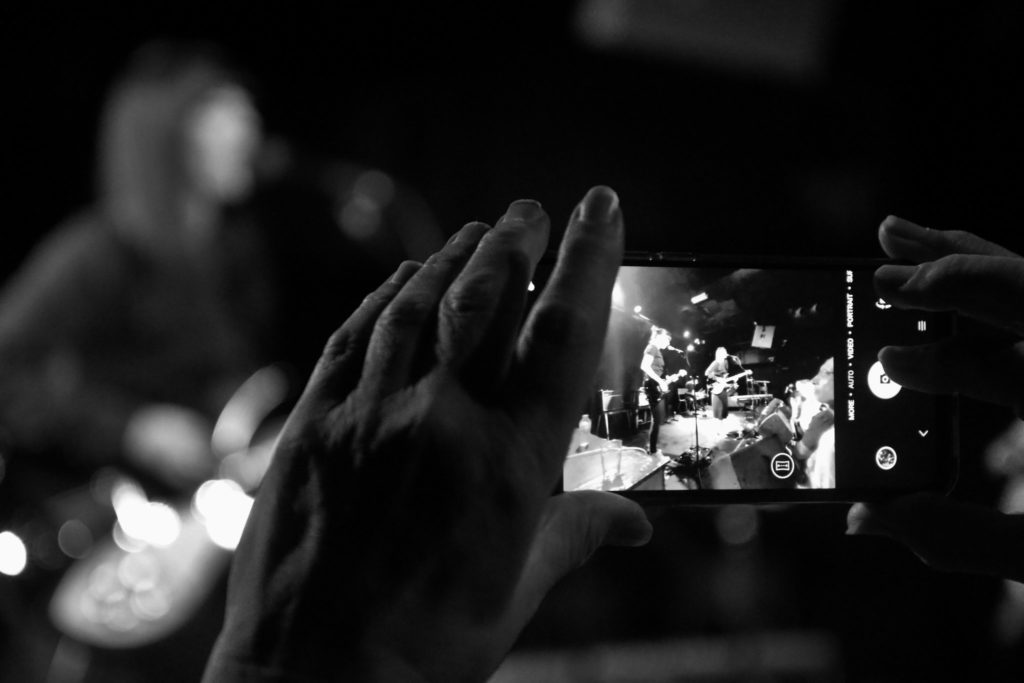 I was and am so touched by how many of you came out to see me, particularly in places where I haven't ever headlined before such as Cambridge, Southampton and Bristol. On more than one occasion, emotions got the better of me on stage as I heard you singing along loudly and beautifully to album tracks off the new album. I cannot tell you how moving it was to walk on stage and see so many of you wearing RDB T-Shirts, particularly those with that beautiful sentiment, reading: You & Me, We Are The Same. We are a gang and we're growing in numbers.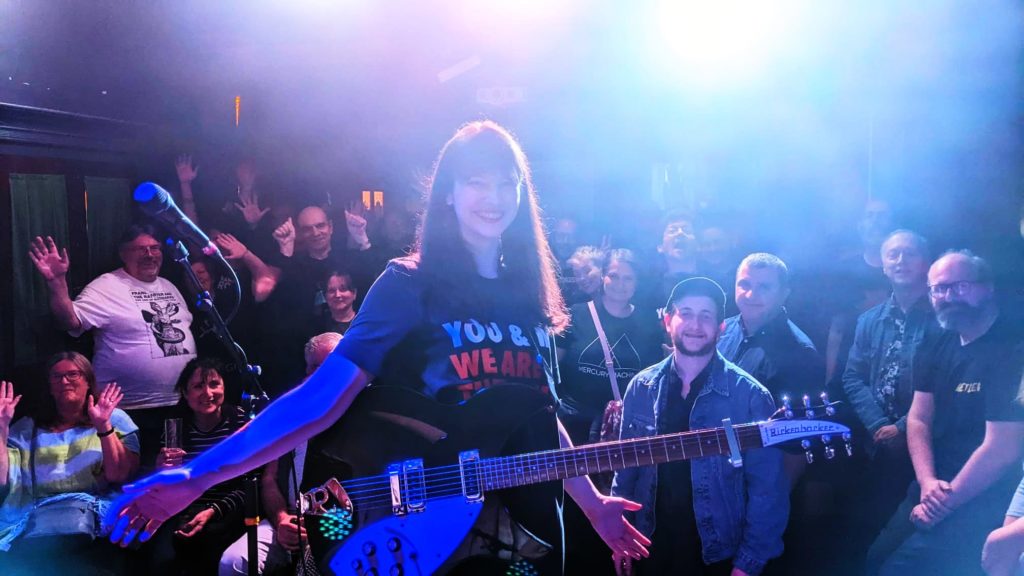 My personal highlights include one lovely audience member in the front row in Cambridge, singing along, teary eyed, to The Weight, the collective energy of the amazing crowd in Manchester (I mean, just look at you all, what a night that was!), performing my dad's song 'I Choose Myself' to a smaller, but incredible audience in Southampton and the grand finale at The Lexington in London…just the whole bloody thing…I had the best time playing for you and I hope you enjoyed it as much as I did.

Them & Me, We Are The Same

Yes, it was by design. The musicians who joined me on this tour were not just incredibly talented artists, but overall top humans and it was a joy spending time together. Here's a huge thank you to Jay, Zoe, Maddy and Clodagh for joining me on this tour. We got on so well and had the best time traveling and making music together…I think / hope it showed on stage. My favourite off stage moments were our little band outing to say hello to the midnight mersey after the show in Liverpool (it felt like coming home) and our impromptu band photo shoot + post gig hang in Hebden Bridge. We also had some amazing support acts on this tour (obviously Zoe Konez, who opened all shows, so glad to introduce her incredible music to you!) and loads of other talented artists such as Jenny Colquitt, Thom Morecroft, My Girl The River, Ellie James, Bar Pandora, The Great Western band and more.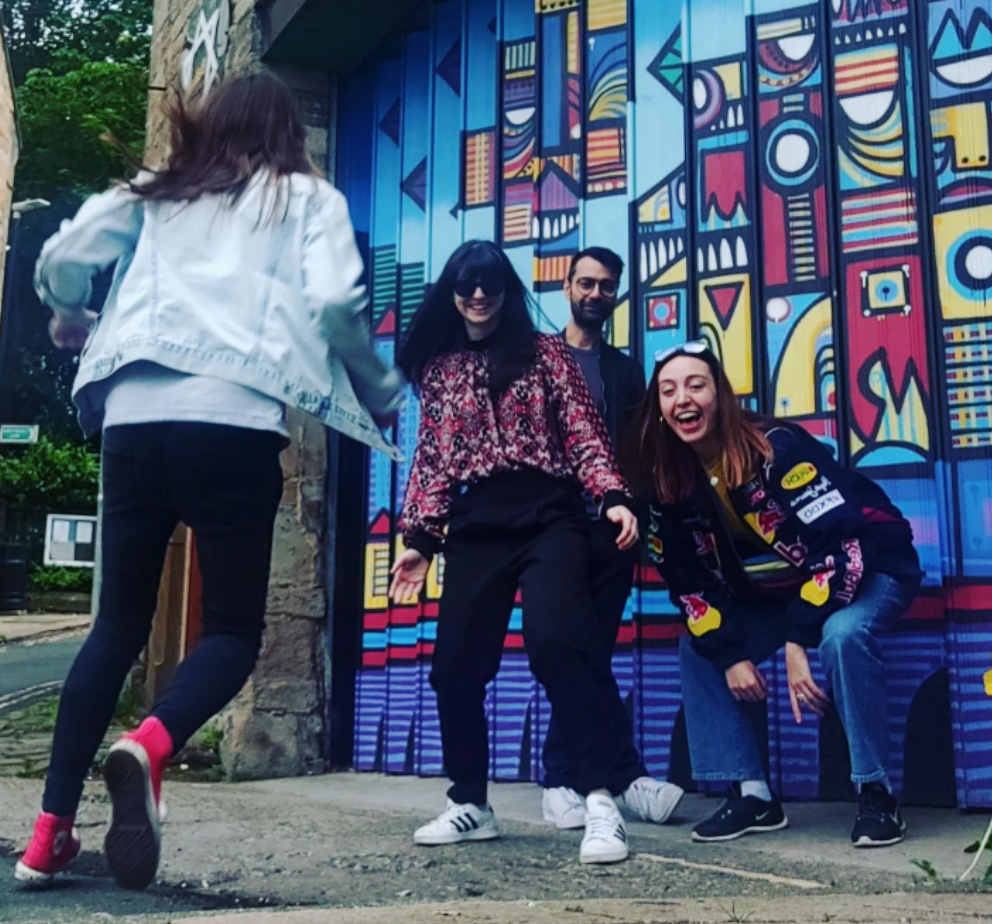 So many audience members on this tour originally discovered my music opening for other brilliant artists (Nerina Pallot, Bernard Butler and there's always at least one person who saw me open for Marillion on crutches when I had that broken ankle from taking out the bins) and so it felt pretty special to be able to return the favour and share the stage with these artists whose music may be new to you. The more artists support one another, the better for all of us.

A few closing thoughts

You know I like to fill you in on a couple behind the scenes music industry musings, so here goes. Firstly, I don't think enough people talk about how much touring with a band consists of loading gear in and out of vans, venues and hotels…at times it felt like it was all we were doing…and we didn't even have a drum kit on this tour! Here's out family room in a Travelodge outside Bristol: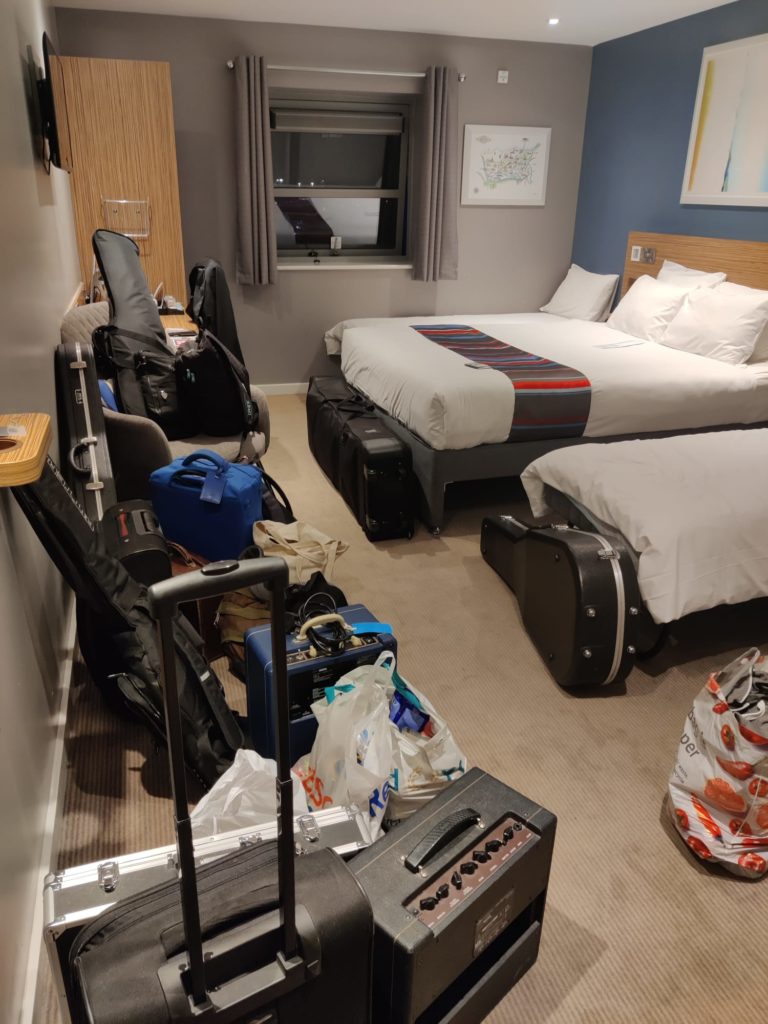 And as for the general live music landscape: It's odd out there….as I write this, London is dressed in its finest colours. It's a beautiful summer day and across the country, music fans are making their way to Glastonbury (SO gutted I can't be there to see Paul McCartney's set…oh well, I'll be on the couch, punching the air to 'Jet' on my own with a little whisky), but COVID numbers are rising and everything just seems a bit…well, everything. I feel like we're in a time of flux and stark contrast. It's so good to see festivals and live music returning. We need it. We need togetherness and we need collective, positive energy. But I feel the live sector is a long way away from making a full recovery. Promoters and festival bookers are dealing with two year's worth of postponed tours. On top of the rescheduled ones, every band under the sun is touring this year in an attempt to try and recoup a little from two years of no live income. From an independent artist's point of view, this has a huge knock on effect. It means that it's tricky to even find venues that are available (I'm so lucky we were able to rearrange mine with only a few venue changes – that's a massive thank you to my agent Steve!). It also means that promoters have to work that much harder to compete and that audiences, those who feel comfortable going to shows again, are totally spoilt for choice. On every date of the tour, we were competing with the likes of The Rolling Stones, Ed Sheeran, The Killers, Interpol…you name it! Across the board, promoters are seeing a 20% – 40% drop-off rate at shows: that's people who buy tickets (and kindly don't ask for a refund), but can't make it to the show on the day, for one reason or another. Equally, audiences are understandably leaving it late to buy tickets. This just means that everything's even less secure and uncertain than it was before March 2020. I am so grateful to all the promoters for taking a chance on me in this very busy time and, more than anything, super grateful that you chose me above Mick Jagger! I'm honoured to have played to such great audiences, several packed rooms and to have closed the You & Me, We Are The Same tour at a jam packed Lexington in London and, as I'm sitting here in my little North London office / home studio, cannot wait to do it all again. See you next time!

photo credits: Tony Birch / Shaun Curran / Alan Mellor / Tony Palmer